Prepare To Challenge and Be Challenged
Oxbow Academics are designed to fulfill sending school requirements while engaging students in a new and inspiring way. They offer students multiple entry points that allow both the most academically focused students and those still identifying the area of their interest to engage with the material. Our courses are fully accredited and college preparatory. Oxbow students have describe the courses as being more relevant learning experiences then they have ever encountered anywhere else in their lives.
At Oxbow we are fully committed to working with students' home schools to best support their time with us, and their return home. The first step is for families to meet with their home school to go over our Curriculum Packet. The Oxbow Admissions Office, Deans, and Faculty are available to answer questions and provide additional information as needed.
"What is the Self?" "How do I live?" "What is my story?" This literary seminar examines the role of storytelling as it relates to the human condition, the natural world, and portraits of the individual self. The course begins with an in-depth study of a pivotal chapter in American literary history, the Transcendental movement of the mid-1800s. Henry David Thoreau's seminal text, Walden, acts as a platform to pose timeless questions. Students identify major themes within Walden, focusing on the call to cultivate a uniquely "American" identity. Students analyze the subsequent impact that Thoreau and his contemporaries had on generations of modern writers. This inquiry inspires students to nurture their own voice in writing, whereby they have many opportunities to build an expansive portfolio and experiment with the written word. At the end of this journey, students have a better sense of how to synthesize and apply their unique voice to their overall studies.
There's no greater agony than bearing an untold story within you
— Maya Angelou
The United States History course at Oxbow combines key ideas related to history, economics, government, and philosophy to provide a multi-faceted understanding of the evolution of American society. The objective of this course is to provide opportunities for students to develop their own philosophic lens and refine the moral compass through which they examine history. Students begin the course with a discussion of the development of Transcendentalism as it exists in the context of the Enlightenment, Industrialization, and the Romantic Era. Students then apply their newly constructed knowledge to discuss issues related to democracy. Students focus on how the economic and cultural underpinnings of society create conditions for new ideas and political organization to emerge. Students depart the course with a clear understanding that they have a powerful role to play in the unfurling of history; that civic awareness and engagement are fundamental to the tenets of democracy.

We are caught in an inescapable network of mutuality, tied in a single garment of destiny. Whatever affects one directly, affects all indirectly
— Dr. Martin Luther King Jr.
---
Honors Environmental Science
What are the mineral and chemical foundations of modern human civilization? How are externalized "costs" measured? How do my actions affect the natural world? In the experiential Environmental Science class at Oxbow, students explore their relationship to the natural world through a variety of scientific lenses—ecology, sustainable agronomy, and scientific inquiry. Students have the opportunity to actively observe their position in the natural environment of Napa Valley; and, through their study of interconnected food systems, they examine the definition of sustainability and its three pillars—ecological soundness, economic viability, and social justice. Starting from the dirt under their feet and moving up to the food on their own plates, students locate themselves globally; they leave the program with a greater understanding of how to contextualize their daily choices and how those choices impact the rest of the planet.

Ask the questions that have no answers. Invest in the millennium. Plant sequoias. Say that your main crop is the forest that you did or did not plant, that you will not harvest. Say that the leaves are harvested when they are rotted into the mold. Call that profit. Prophesy such returns.
— Wendell Berry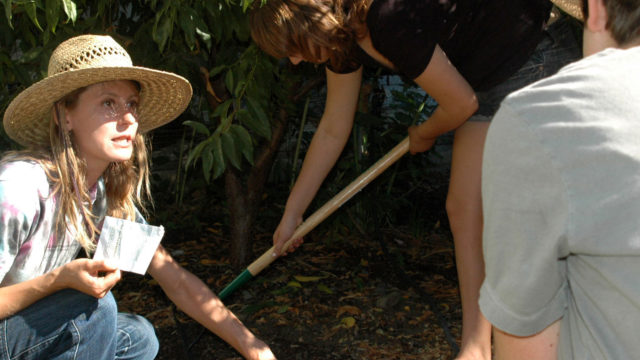 Environmental Science In Practice The Oxbow approach to education is not textbook-driven or simply theoretical, but is based on creating situations where students learn by discovering on their own.
Each semester, we welcome students from different math backgrounds and ability levels. In order to best accommodate all of the students needs we gather as much information from students and schools as possible about their home school math courses. We then use a combination of online math courses, class time, study halls, Math Meals and when necessary, tutors to support students in whichever level of math they are taking. Students are supported and evaluated by Math faculty or a tutor depending on which course they need. Students who do not need any math while at Oxbow will have an opportunity to propose a creative independent study project that relates to mathematics.
Students indicate to us which math credit they will need while at Oxbow after being accepted on their Course Selection Sheets. You can find a list of the most common math selections on The Oxbow Course Chart on Page 7 of the Curriculum Packet. Students will supplement our standard curriculum—which can be found below—with topics and materials from sending schools. Each student's first assignment is to upload their sending school curriculum.
Topics covered at Oxbow:
Creating a personal definition of what math is
Functions (definition, functional and non-functional relations, continuous vs. types of discontinuity, increasing/decreasing/ constant)
Inverse Functions (definition, 1:1 vs. restricted domain inverses, inverses of linear, quadratic, exponential, and basic trig functions)
Lines (slope intercept form, finding the equation of a tangent line, line of best fit, finding the inverse, Speed, Arithmetic Sequences)
Exponents and Logs
Polynomials, Rational Functions, and Limits (Quadratics, Hyperbolas, Asymptotes, Polynomials and Rational Functions Limits and Infinity)
Basic Sampling Statistics and Curve Fitting to Data
The Pythagorean Theorem, the Distance Formula, the Cartesian Circle
Right Triangle Trig, the Unit Circle, the Polar Form
Trig Waves and Physical Applications
For an additional fee Oxbow provides tutors in French, Spanish, and Chinese languages for those students who wish to continue foreign language study while at Oxbow. If necessary, students can elect to work with an online tutor or to Skype with a sending school teacher while at Oxbow. Other languages may be available, please contact the Admissions Office for more information.
At the conclusion of the Oxbow semester, students have a unique opportunity to become an expert on a topic of their own choosing. Final Project is a chance to focus on a subject in great depth with support from faculty mentors. The goal of the Final Project is to foster an ongoing dialogue between inquiry, research, writing, and art-making. The learning path integrates multiple disciplines as a means to inform one's artistic process. Students take on the model of the artist pursuing a line of work in his/her own studio. Many students cite this project as the highlight of their Oxbow experience, as it allows them to take full ownership over their work by engaging in a dynamic process of creative experimentation, discovery, and output.
"At Oxbow, I got to try inquiry-based learning for the first time. This allowed me to control the amount of rigor and the depth of research in my topic, as well as picking a topic that I found most interesting. From going through this new process of learning, I feel excited to go back to the rigor of my sending school to apply the inquiry-based perspective to my classes."
— Meave, OS33
For three hours twice a week, all students take a break from the work at hand to get some exercise. Students choose two activities led by faculty and staff, past activities have included biking, yoga, hiking, gardening, kayaking and team sports that offer everyone the opportunity to stay fit and get outdoors.